The Leadership Recognition Award is designed to honor an outstanding leader, group or organization within the Ozaukee County 4-H Program. Nominees for this award should be current 4-H'ers, leaders or families and their involvement and leadership in the Ozaukee County 4-H Program should demonstrate a willingness and drive to consistently excel at performing their regular 4-H leadership responsibilities.
(Nomination form: Leadership Award Nomination Form 2020 fillable .pdf)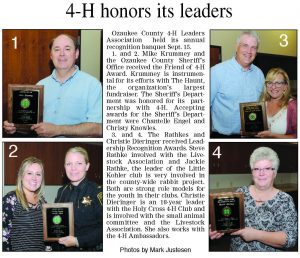 2019 Leadership Recognition Award – Christie Dieringer
Christie Dieringer is a eighteen year leader with the Holy Cross 4-H Club. Her dedication to the 4-H program is evident through her leadership and planning in various projects and activities for Holy Cross, as well numerous county-wide activities. In addition to serving as a co-general leader for Holy Cross, Christie has been deeply involved on the county-wide small animal committee, as well as with the Livestock Association. Like many of our 4-H leaders, she can often be seen at the county fair helping 4-H members with their animals and volunteering to assist with project judging. Christy has also worked with our 4-H Ambassadors, helping with the annual silent auction at county fair.
For the past few years, Christie has coordinated the weekly brat fry at the Port Washington Farmers Market. Not only does she ensure each weekend has volunteers assigned, but she ensures supplies are stocked to enable a turnkey operation. She follows through with our supplier to ensure expenses are tallied and bills are paid. Because of Christie's efforts, chartered groups and individuals have an opportunity to earn money to offset expenses for their 4-H projects, trips, or club expenses. Christie truly 'bleeds green', and has a contagious passion for Ozaukee County 4-H. Congratulations Christie on being a 2019 Leadership Recognition Award Recipient!
2019 Leadership Recognition Award – Steve and Jackie Rathke
Steve and Jackie Rathke are long time leaders in the Little Kohler 4-H Club, serving as Beef and Rabbit leaders. Over the years, Steve has very capably served as an officer multiple times for the Livestock Association, including President and Vice President. Annually, he leads the weigh in for beef animals on those not so warm January days at the fairgrounds.
Jackie has served as a leader for various projects in the Little Kohler club, and is also very involved in the county-wide rabbit project.
Both Steve and Jackie are strong leadership role models for the youth in their clubs, as well as for youth in county wide projects, and have each served as leaders for many years. Steve has served as a leader for twelve years and Jackie is celebrating her thirtieth year as a leader. Congratulations!
They never stop working for 4-H youth and have dedicated many summers to the fair and the youth they lead. They bid generously at the Livestock and Small Animal sales, ensuring the hard work of our youth members is recognized.
Steve and Jackie are truly dedicated 4-H leaders who model humble leadership to Ozaukee County 4-H youth and their families. It is an honor to award Steve and Jackie Rathke this year's Leadership Recognition Award!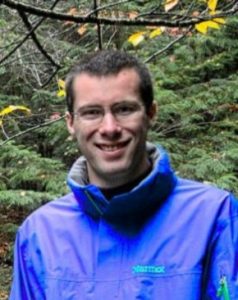 2018 Leadership Recognition Award – Aaron Brown
Aaron Brown graduated from the Ozaukee 4-H Program in 2008. He continued his "4-H Story" by immediately becoming an Adult Leader! He has served as a Photography Leader for Holy Cross 4-H and also helps evaluate Record Books.
Aaron has volunteered with many Countywide 4-H Events & Activities such as Parking at the 4-H Haunt and as a 4-H Camp Counselor. He was elected to the 4-H Leaders Board, where he has held the challenging office of Treasurer. He has also served on the Selection Committee for Trips, Scholarships & Awards numerous times. He has evaluated countless Applications, Resumes & Interviews. Aaron is always excited to hear the youth share their 4-H experiences, and he always gives encouraging feedback. On the State Level, Aaron also served as the Assistant Director for the Wisconsin 4-H Press Team and is a certified judge for Photography and Computers.
Aaron's passion & involvement for 4-H knows no borders…he also helped plan and lead the first ever 4-H Haiti National Youth Leadership Conference in 2016 for 96 participants, with hopes of returning for a second Conference. Aaron is very patient, positive and insightful. His enthusiasm for 4-H is obvious and contagious!
Aaron Brown is definitely a deserving recipient for this year's Leadership Recognition Award. Congratulations!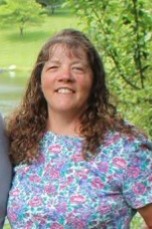 2018 Leadership Recognition Award – Diane Hamm
Diane has been a part of 4-H in Ozaukee County for pretty much her entire life.  She grew up as a 4-H'er and has been a Co-General Leader of Holy Cross 4-H Club for the past 25 years.  Diane has served 2 terms on the Ozaukee County 4-H Leaders Association Board.  She was instrumental in facilitating the changes in the Clover Café when it moved to it's present home in the Pavilion.  Diane originated the committee to start the North 4-H Open House held each year in Fall.  She is active with her club in helping with the Haunt each year by providing delicious meals and snacks for the entire crew.
Diane is a member of Divine Savior Catholic Church where she is an Eucharist Minister and also the Funeral Luncheon Coordinator.   She is an active committee member for the Ozaukee County Dairy Promotion by helping with many cheese tastings each year.  She is an annual volunteer for the Disabled Vet's Fishing Outing each year and a member of the Fredonia Garden Club.
Diane is employed at Appleland and the family farm, Sandy Loam Dairy Farm in Fredonia, where she resides with her husband Don and daughter Heather. In her spare time, Diane enjoys spending time growing flowers and veggies in her garden.  She loves to crochet and jokes that one of her additional hobbies is "working".
Diane is very passionate about the program as evidenced in the hours and years of commitment she gives to the program.  She is always willing to help in any way.  She is a strong advocate for our youth and her passion has always shined through.
Congratulations Diane on being a 2018 Leadership Recognition Award Recipient!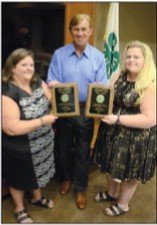 2017 Leadership Recognition Award – Michelle Kringel
Michelle has been a 4-H leader in Ozaukee County for 13 years. Michelle has dedicated herself to several different areas of leadership.  Michelle has served on the Leaders Association Board, and as a project leader for Town & Country 4-H Club. She willing volunteers to help with many various countywide committees. She has worked with the petting area  at Bunny Breakfast, helps with the Jack-o-Lantern Jamboree, and can be found backstage at the Variety Show.
Michelle has been a leader in the Dog project for all of her 13 years as a leader. In that time she has served on the board, taught showmanship and recently has been instrumental in bring a new facet in to the dog project as she began an agility program.
Another area of leadership that Michelle is key in is 4-H Summer Camp.  At camp, Michelle wears many different hats and is always willing to pitch in where necessary.  Some of the roles Michelle has held in the past are dining room coordinator, waterfront supervisor, snack coordinator, and has helped in the arts and crafts area also. Michelle makes daily trips to town to pick up supplies needed for all areas of programming.
In the past several years Michelle's passion for The Haunt has been evident. When the former coordinators stepped down, Michelle stepped up and committed her leadership to continue this fundraiser. Michelle worked countless hours with the planning committee, helped to set up and take down The Haunt, coordinated volunteers, and organized costuming and make-up.  The effort and time Michelle commits to The Haunt is amazing and her dedication in 2016 helped raise nearly $30,000 for Ozaukee County 4-H.
Congratulations on being the Leadership Recognition Award Recipient.
 Leadership Recognition Award Recipients
1999                       Joan Kruse  – Covered Bridge 4-H
1999                       Judy Rust-Deetjen – Grafton Falls 4-H
2000                       Janice Bublitz – Little Kohler 4-H
2000                       Margo Kraus – Lakeview 4-H
2001                       Paul Jacobson – County Leader
2001                       Evie Rathke – Little Kohler 4-H
2001                       Bob & Mari Schmidt – Lindenwood 4-H
2002                       MaryAnn Erickson – Covered Bridge 4-H & County Leader
2002                       Delores Schwengel – Cloverleaf 4-H
2002                       Phil Steinke – Cloverleaf 4-H
2003                       Barb Batzko – Town & Country 4-H
2003                       Jan Dommer – Knellsville 4-H
2004                       Dorothy Parchim – Cloverleaf 4-H
2004                       Linda Kolbach  –  County Leader
2005                       Carol Boehlke – Lindenwood 4-H
2005                       Jill Rychtik Lindert – County Leader
2005                       Patricia Steffen – Fairway 4-H Club
2006                       Jim & Sherri Melichar – Knellsville 4-H
2006                       Peggy Schoessow – Lindenwood 4-H
2007                       Mary Sampont – Knellsville 4-H
2007                       Lori & Mike Paulus – Holy Cross 4-H
2008                       Bob & Cindy Roden –  Knellsville 4-H
2008                       Peggy & Dick Brown – Holy Cross 4-H
2009                       Tom Hartwig (posthumously) – Covered Bridge 4-H
2010                       Sue Meiller – Cloverleaf 4-H
2011                       Dave & Nancy Salkowski—Town and Country 4-H
2012                       Janet Zausch—Knellsville 4-H
2013                       Brenda Mueller—Jay Road 4-H
2014                       Jody Brzezinski—Lindenwood 4-H Club
2014                       Susan Karolczek—Covered Bridge 4-H Club
2015                       Diane Pfaffenroth- Cloverleaf 4-H Club
2015                       Kurt and Cary Schoessow- Lindenwood 4-H Club
2016                       Roger Knepprath- Town & Country 4-H Club
2016                       Lynn Neumann- Town & Country 4-H Club
2017                       Michelle Kringel- Town & Country 4-H Club
2018                       Aaron Brown- Holy Cross 4-H Club
2018                       Diane Hamm- Holy Cross 4-H Club
2019                       Steve & Jackie Rathke- Little Kohler 4-H Club
2019                       Christie Dieringer- Holy Cross 4-H Club