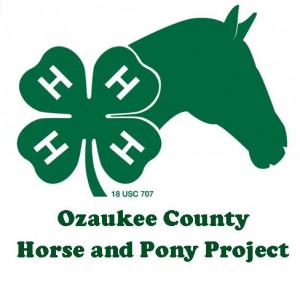 OZAUKEE COUNTY HORSE & PONY PROJECT (OCHPP)
What you can do in this project:
Learn about the care of horses
Learn about the care of horse equipment
Discover the types of shows and entries one can do with horses
Grades: 3-13
Cost:
$20 per family dues ($5.00 per extra child) and must secure $40.00 in sponsorships from businesses
$10 per horseless horse family and must secure $20.00 in sponsorships
There is a cost per class if entering shows.
Equipment Needed: Horseless Horse members do not need access to a horse. Equipment varies depending on level/type of participation in Horse project.
Dates: Dates can be found on the OCHPP website at www.ochpp.weebly.com.
Horseless Horse meets throughout county depending on the activity. Horse meetings are located at the fair grounds in Cedarburg with at least one community service project located elsewhere. Most meetings are held the 4th Monday of each month. Some months meetings are exchanged for group activities.
For more information, please contact:
Debbie Poull at rdpoull@gmail.com or 414-750-0048
Wendy Weiss at weisspower@yahoo.com or 920-889-1870
Kate Hoffman at jkplusfive@gmail.com or 262-339-2100
The Horse & Pony Project maintains a website at www.ochpp.weebly.com.  The website features loads of information for Horse Project members.