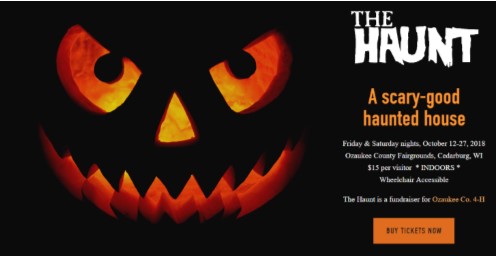 Check back in July 2019 for updated information for the 2019 Haunt season.
This page is for 4-H families volunteering to help with The Haunt Fundraiser. Additional information will be added as it becomes available.
Calling all Ozaukee 4-Hers! It's our largest annual FUNdraiser…THE HAUNT! Youth & adults are needed to work various jobs/shifts. Your volunteer hours count towards your club's profits from the Haunt, and the rest of the proceeds support countywide activities & experiences for Ozaukee County 4-H youth! There are also college scholarships for youth who consistently work at The Haunt through their 4-H career.
It's a great way to raise funds, meet new people and have fun! Check the list below for various opportunities. They're waiting for you….Mwah-ha-ha-ha!!!
Sign-up to be part of the Haunt planning committees at https://goo.gl/forms/E3xFNDZXAbRH3juB3.
THE BUILD 2018 DATES
The Haunt is currently being built in the Dairy Barn and the Horse Barn at the Fairgrounds in Cedarburg. Help is needed:
All ages are needed to build, paint, and decorate. Come dressed in work clothes appropriate for the weather as the barns are not heated. No need to sign-up- just stop in and help.
Every Monday-Thursday from 6-8 pm through October 11
Every Friday from 6-9 pm through October 5
Every Saturday and Sunday from 9 am – 4 pm through October 7
If you are uncertain if there will be anyone at the Fairgrounds, please call either Mike Krummey at (262) 707-8269 or Dan Paulus (262) 208-0366.
SCARE TACTICS 2018 DATES
Learn techniques to keep our customers in suspense, while keeping with the theme of The Haunt. Also, learn how to keep yourself and other safe in the attraction. This workshop is required for all youth and adult actors and Haunt Patrol. It is optional for Ghoulies.
MANDATORY Actor Training and Scare Tactics Meeting : Sunday October 7th from 1:00- 3:00 pm at Fairgrounds Show Arena. If you cannot make it email Alycia K. at alyciakringel16oz4h@gmail.com or call Michelle at 414-254-6281.
No need to sign-up- just stop in and learn.
MAKE-UP AND AIR BRUSH CLASSES 2018 DATES
Learn to use the Airbrush system, and how to do create spooky faces. This workshop is best for adults and youth 7th grade and older who will be available to do make up for our actors on Friday and Saturday nights between 4-6 pm prior to The Haunt.
Sunday, September 30th in the Fairgrounds Show arena from 1-4 pm.
No need to sign-up- just stop in and learn.
VOLUNTEERS THE NIGHTS OF THE HAUNT- OCTOBER 12, 13, 19, 20, 26, and 27, 2018
Sign-up on the Sign-up Genius to help as many nights are you are available: https://www.signupgenius.com/go/30e084baaa728a1f94-thehaunt3
Actors- Older youth and adults can serve as actors. Youth must be in 8th grade or older to act.
Ghoulies- Youth in 3rd grade and older can serve as Ghoulies to direct customers at the beginning and end of The Haunt.
Haunt Patrol- Adult supervisors who assist youth actors in assigned rooms of The Haunt. Haunt Patrol MUST be registered 4-H volunteers who have completed training and background checks. If you are not registered, please enroll as an adult volunteer as soon as possible and we'll send you information about how to complete the additional steps needed.
Make-up
Parking
Concessions
MEALS AND SNACKS 2018 DATES
Our volunteers are served dinner before The Haunt, and snacks during the evening. Volunteers are needed to donate, prepare, and serve the meals and snacks to approximately 60 people. Your family, a group of families, or your club could sign-up to provide a meal or snack on the Sign-up Genius at: https://www.signupgenius.com/go/30e084baaa728a1f94-meals1
STRIKE THE SET 2018 DATES
All good things must come to an end. We need lots of help to tear-down and pack-up the equipment. All ages are needed! Come dressed in work clothes appropriate for the weather as the barns are not heated.
Sunday, October 28th: 10:30am – unsure of end time. Pizza will be provided for those who attend.

Additional dates will be set-up. Check this webpage and FaceBook page for additional dates when added.
No need to sign-up- just stop in and help.