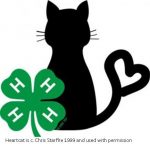 COUNTYWIDE CAT PROJECT
What you can do in this project:
Learn and practice proper care of your cat, including nutrition, grooming, and budgeting cat related care costs.
Grades:
3-13
Cost:
None
Equipment Needed:
Grooming tools appropriate for your cat, portable kennel/carrier, H-harness, leash
Dates:
Third Tuesday of every month from 6:00-7:30 pm starting in November 2017. Meetings will be held in the Show Arena at the Fairgrounds.
Tuesday, November 14, 2017- Please do not bring your cat to the October meeting, rather, please bring your cat's shot records and equipment.
Tuesday, December 19, 2017
Tuesday, January 16, 2018
Tuesday, February 20, 2018
Tuesday, March 20, 2018
Tuesday, April 17, 2018
Tuesday, May 15, 2018
Newsletters
december-2017-newsletter
december-2016-newsletter
november-2016-newsletter
For more information, please contact:
Amy Helt
amymhelt@gmail.com
262-365-4473