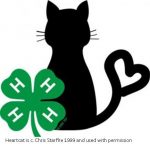 COUNTYWIDE CAT PROJECT
What you can do in this project:
Learn and practice proper care of your cat, including nutrition, grooming, and budgeting cat related care costs.
Grades:
3-13
Cost:
None
Equipment Needed:
Grooming tools appropriate for your cat, portable kennel/carrier, H-harness, leash
Dates:
We are currently in need of a countywide Cat Project Leader. Please contact the 4-H Program Educator if you are interested in serving in this capacity.
2021 Sheboygan County 4-H Cat Project Open Household Pet Cat Show