The Friend of 4-H Award recognizes a citizen or organization from the community for their contribution to the 4-H Program.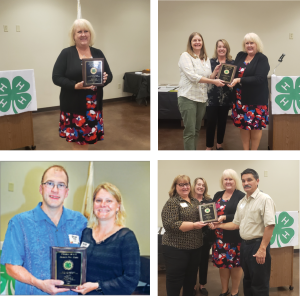 2021 Friend of 4-H Award – Bernie's Fine Meats (Steve and Sandy Bennett)
Small businesses in Ozaukee County are often asked to support non-profit organizations and events. Bernie's Fine Meats has always answered that call for Ozaukee County 4-H, and surely countless other organizations. They have  supported the 4-H program by allowing us to store our equipment at their facility year-over-year for our summertime brat fry fundraisers at the Port Washington Farmer's Market. They have also provided discounted pricing for product used at the brat fry events and at the Clover Café fundraiser at the county fair. Through their business, Steve and Sandy Bennett have donated certificates for the annual IFYE raffle, have provided product for the Variety Show judges appreciation, and have purchased advertising in our Plat Book fundraiser. Steve and Sandy are always willing to help when asked. We wish them continued success in their business and are delighted to honor them with a 2021 Friend of 4-H award.
2021 Friend of 4-H Award – Kevin and Sue Richison
Sue and Kevin Richison were long-time leaders in the Sheep Project, mentoring countless youth in selecting, raising, training, and showing sheep. To this day, if it's the first Saturday in May, or the Wednesday before fair, we know where Kevin and Sue will be – assisting with sheep weigh-in at the Ozaukee County Fairgrounds. With their 4-H leadership days behind them, they have continued their support by sponsoring various 4-H initiatives. Through their business, Dawgs in Motion, they have sponsored the Parade of Champions at the fair and have also purchased advertising in our Plat Book fundraiser. Many people don't know that Kevin and Sue were instrumental in starting the 4-H Small Animal Auction, benefiting youth county-wide. They continue as ardent supporters of the program, and we are very pleased to present this Friend of  4-H Award to them.
2020 Friend of 4-H Award – Larry Budiac (Budiac Plumbing), video recognition: Video link (select CC to view closed captioning/subtitles)
Mr. Larry Budiac's desire to help support the Ozaukee County 4-H program has not gone unnoticed. In 2018 Mr. Budiac approached the leader of our parking fundraiser at the fair. He noticed the "lot full" sign, and decided to offer his property for parking cars with the same $10.00 parking fee. This enabled more people to conveniently access the fair. Parking at the Ozaukee County Fair gets a little crazy and can fill up fast, and Mr. Budiac's offer was met with much enthusiasm. The proceeds from parking fees are used in support of 4-H educational programs for youth. Instead of keeping the money for himself, Larry wanted to support the 4-H program and said that he would like all of the funds to be directed to 4-H. That same year, 4-H parking attendants parked 100 vehicles over 3 days on Mr. Budiac's property, which led to an additional $1,000 return to the 4-H program. The following year, Mr. Budiac and his wife decided to repeat the same plan, which led to an increase of 145 vehicles parked that year. This resulted in an additional $1,450 above the previous year. Mr. Budiac's selflessness and support for the 4-H program is truly amazing and we can't thank him enough for his continued patronage. Mr. Budiac, the Ozaukee County 4-H program continues to grow stronger because of people like you. Thank you again for all you do for Ozaukee County 4-H!
2020 Friend of 4-H Award – Clay Hill, video recognition: Video link (select CC to view closed captioning/subtitles)
Clay Hill, a resident of Cedarburg, has contributed his photography skills at the Ozaukee County Fair for the last several years. Clay takes many photos of 4-H members as they exhibit their projects. He loves to get action shots during livestock and horse shows. Clay always catches youth at their best, especially with animals. He volunteers his time and talents and shares the photos with 4-H'ers and the fair board. Clay's photos have been seen on the Fair website and social media pages, as well as on his Flickr site. Many 4-H families have enjoyed viewing Clay's work over the years, and his shots are featured in many youth 4-H record books. In 2020, Clay took individual photos of each and every 4-H and open class exhibit, with the ribbons and awards they received. Sharing those photos on social media made it possible for anyone interested in the fair to see the projects and accomplishments of the 4-H youth of Ozaukee County. We also thank Clay for being a U.S. Navy Veteran, with well over 20 years in submarine service. Clay and his wife Jan are very active in their church. They have raised 4 children, two of whom were youth members of Elm Tree 4-H over 30 years ago. They also have 3 grandchildren. Clay, on behalf of the Ozaukee County 4- H program, thank you for your time and dedication capturing the amazing moments Ozaukee County 4-H members experience at the County fair!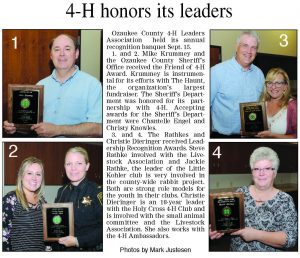 2019 Friend of 4-H Award – Mike Krummey
It is with great pleasure to award Mike Krummey the 2019 Friend of 4-H Award. The largest Ozaukee County 4-H Fundraiser, The Haunt, would not be possible without Mike's continued dedication and commitment. He is The Haunt's master of lights, sounds, video security, special effects and assists with the design build.
Mike has been an instrumental part of The Haunt from its inception 12 years ago.  The continued improvements and guidance Mike provides definitely helps us to "Make the Best Better" in our Ozaukee County 4-H program.  Mike's dedication to this project is reflected in his monthly attendance at The Haunt meetings and year round work to establish new ideas and new special effects to implement the next year.  In the process of providing a great community entertainment event, Mike's passion to provide 4-H youth with opportunities to learn life skills through the production of The Haunt is his driving force. Mike works tirelessly on an almost nightly basis and gives up almost every weekend from late August through the run of the Haunt in October to ensure things are in place and ready to freak out the customers.
Mike does not have any of his own children in the 4-H program, but continues to support The Haunt through his volunteer spirit, amazing knowledge, and many donations – both financial and material items. When establishing the layout of The Haunt, Mike takes the time to input the information into layout design software he owns so we can be sure to keep the floorplans within specifications needed to be as safe as possible.  All of this done to support Ozaukee County 4-H youth.
Mike is a behind the scenes kind of guy, so even though you may not know him personally, if you have ever had anything to do with The Haunt, you have encountered Mike! Congratulations Mike and thank you for all you do for the 4-H youth through your dedicated work with The Haunt and Ozaukee County 4-H!
2019 Friend of 4-H Award – Ozaukee County Sheriff's Office
The Ozaukee County Sheriff's Office supports and partners with Ozaukee County 4-H in many impactful ways. Two years ago, the Sheriff's office started the now annual Cops and Kids Field Day event. As part of the planning process, the Office approached 4-H to collaborate and partner with them in putting this event on. A new successful partnership and outreach program was formed. We look forward to working together again next year on this fun, free, community wide youth event!
The Sheriff, deputies, and other members of the Sheriff's office have attended many 4-H events over the years. Riding the barrel train at Jack-o-Lantern Jamboree, partaking in a cream puff eating contest where the puffs are made by the Clover Café, or horseback riding, the Sheriff's Office is always game. This support widens the potential audience and increases awareness of the 4-H program. The friendly and helpful demeanor of the Sheriff's office personnel at these events makes them approachable to the youth in 4-H and the greater community alike.
Undersheriff Knowles and her fellow department colleagues have visited 4-H families prior to county fair for the past several years. This fun social media campaign has highlighted the many project options youth have to choose from in 4-H. It also has helped promote the 4-H program to a wider audience, highlight the hard work and passion 4-H youth put into their projects, as well as showcase all things 4-H – everything from goats, and other farm animals to go-carts, quilts, and woodworking. We like to think Undersheriff Knowles has become an honorary 4-H member!
We are happy to award the 2019 Friend of 4-H Award to the Ozaukee County Sheriff's Office. Congratulations and thank you for supporting the program, the youth, and recognizing what the 4-H represents in our communities! We look forward to many more years of impactful collaboration!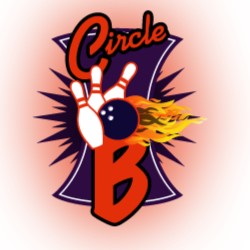 2018 Friend of 4-H Award – Mark Klas, Circle B Recreation
Mark Klas and Circle B Recreation have been a Friend of 4-H for many years. Various clubs throughout the county have used the facility for bowling parties and Circle B has always accommodated the groups by giving discounted rates and preferred times when possible. The staff is patient with the young bowlers and helps to insure a fun filled meeting for all. The county 4-H group, "Together We Can!" has also had events scheduled at Circle B, and Mark assists with the Lindenwood 4-H Club and their Heritage Foundation's annual fundraiser at Circle B.Mark has assisted with the Foundation's Bowl-a-thon since the beginning, reserving the same weekend every year, and utilizing most of the lanes. The staff sets-up tables for check in and out, raffles, and information. They assist families as needed and are always so appreciative of our business.
The Bunny Breakfast began having its very well attended event at Circle B three years ago. Mark and his staff have been gracious in providing the banquet hall and lounge to 4-H at no charge. Mark surprised us with several large decorations that transform the hall into a beautiful springtime event.  It is evident that he really enjoys working with the 4-Hers and spreading the springtime joy!
The 2018 Youth Leader Recognition Party was also held at Circle B. Again, Mark worked with the committee to plan a successful, fun event for the youth.
We hope to continue our relationship with Mark Klas and Circle B for many years to come. Thank you for your support of Ozaukee County 4-H.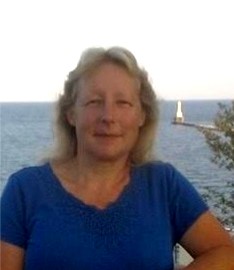 2018 Friend of 4-H Award – Pamela Mueller
Pam Mueller first became involved with 4-H through her job as a bus driver for Johnson Bus Service. The bus to drop off camp staff in Wautoma for their overnight training, and then pick them up the next day was going to be costly. Johnson's offered the services of Pam Mueller who would be willing to stay overnight with us at camp, thereby reducing the cost by 50%. After experiencing firsthand the benefits of volunteering with 4-H through her interactions with camp staff, Pam decided to join us for the 4-day summer camp, and jumped in to assist with waterfront and crafts when she wasn't driving the bus for the outpost adventures. Again, this saved us hundreds of dollars, and provided extra adult help.  Pam has gone through the 4-H New Volunteer Orientation, not once, but twice to better understand the program.
Pam also works at U-Haul in Saukville and has assisted in acquiring discounts for U-Haul trucks and trailers for camp. She now volunteers every year to drive a bus to the camp staff overnight training and the 4-day camp which saves the program a considerable sum of money. This past year, Pam served as one of the Outpost Leaders and contributed greatly to the experience. Leaders who work alongside her find her to be a very capable individual who is always willing to lend a helping hand and provide suggestions.
Other 4-H events and clubs needing bus services, such as transportation to state fair, also request Pam, and she always provides wonderful service, above and beyond what is expected.
It is an honor and a privilege to be able to award Pam Mueller with the Friend of 4-H Award.
Friends of 4-H
1953                       Dr. Moats, Sr.
1960                       Waubeka Mill
1961                       County Homemakers
1963                       Port Savings & Loan
1964                       W.G.L.B.
1965                       Wasaukee Horseman's Club
1966                       Cedarburg Fire Department
1967                       Dr. Bailey & Vern Arendt
1968                       Mrs. Helen Weyker
1970                       Gordon Griffiths & Roman Hoffman
1971                       Art Kelm
1972                       Erwin Riemer
1974                       Lutz Rathke
1975                       Mr./Mrs. Emil Paulus  & Mr. Russell T. Gilman
1976                       Al Raetl & Warren Wickesburg
1977                       Ray Blank
1980                       John Blank
1982                       Fred Scherf / Clarence (Otto) Neumann
1983                       Mr. /Mrs. Arnold Groth
1984                       Randy Rieve / Dr. Moats, Sr.
1986                       Milton Krumhus & George / Ellen Binsfeld-Lavista
1987                       Ray Maas
1988                       Earl/Loraine Boehlke
1989                       Bill Ames
1989                       Mark Paulus
1990                       Roland Kison
1991                       Richard Hauser
1992                       Jack Janik / Ruth Mengsol
1993                       Rhea Yovanovich
1994                       Ellen Stocks
1995                       Alice Sedgwick / Ambruster Jewelers
1996                       Harold C. Dobberpuhl
1997                       Kewaskum Frozen Foods
1998                       Ozaukee County Dairy Promotion Committee
1999                       LeRoy Haeuser
2000                       Phyllis Linden
2001                       Olsen's Piggly Wiggly — Cedarburg
2002                       Wayne Houpt/Suburban Harley-Davidson
2003                       The Family of S. Duane Stroebel Sr.- Christine Stroebel-Scimeca, Robin Stroebel Cruz and Duey Stroebel, Jr.
2004                       Beacon Health
2005                       Roman Weninger/Five Corners Dodge
2006                       Saukville Feeds
2007                       Farm Bureau Breakfast Committee
2007                       Karrels Dairy Equipment
2008                       Boehlke Hardware/Boehlke Bottled Gas
2009                       Deb Kranitz/News Graphic
2010                       Sager Happy Holsteins/John & Caryn Sager
2011                       Melichar Broad Acres
2012                       Kenneth Riemer
2013                       Fred Buechler
2014                       Richard Rathke
2014                       Saukville Rifle and Pistol Club
2015                       Kohl's Associates in Action Program
2015                       Ozaukee County Agricultural Society (Fair Board)
2016                       The Roden Family and Echo Valley Farm
2017                       Frenz Market
2017                       Ozaukee County 4-H Foundation
2018                      Mark Klas, Circle B Recreation Center
2018                      Pamela Mueller
2019                      Mike Krummey
2019                      Ozaukee County Sheriff's Office
2020                      Larry Budiac (Budiac Plumbing)
2020                      Clay Hill
2021                      Bernie's Fine Meats
2021                      Kevin and Sue Richison